It won't replace your fancy CS3, nor Flash, nor 3D Studio Max.

Some of them are pretty decent alternatives, not only for those who are not willing to spent some big Bucks, but also for those who need some specific tasks done, like resizing a batch of picture without needing to run the almighty Photoshop.


Image editing
GIMP (GNU Image Manipulation Program) is a freely distributed piece of software suitable for such tasks as photo retouching, image composition, and image authoring. It is a powerful piece of software with capabilities not found in any other free software product.
Note: You will need to download both GTK+ Runtime Environment and The Gimp installers. Install GTK+ before installing The Gimp.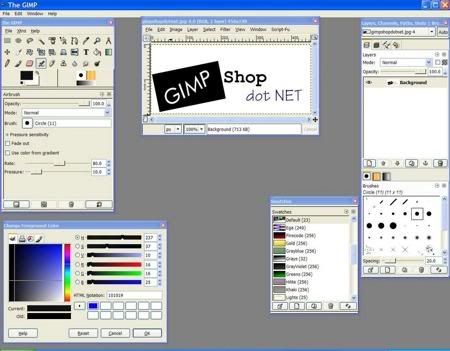 GIMPshop is a modification of the free/open source GNU Image Manipulation Program (GIMP), intended to replicate the feel of Adobe Photoshop. Its primary purpose is to make users of Photoshop feel comfortable using GIMP.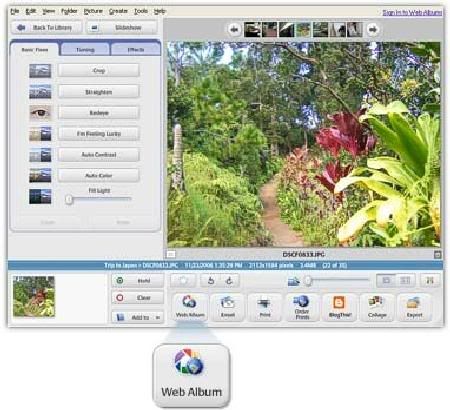 Transfer, find, organize, edit, print, and share images, all with this easy-to-use product. Watch Picasa automatically organize all your pictures into elegant albums by date. Having all your photos in one place means no more time wasted searching for folders or files. The program works with JPEG, GIF, BMP, PSD, and movie files and is compatible with most digital cameras; it detects your USB driver and imports pictures into albums. Editing tools include cropping (standard or custom), removal of red-eye, and enhancing–even switching from color to black and white. Create slide shows set to your MP3s. Integration with Picasa's free Hello instant picture-sharing software lets you share hundreds of photos in seconds and chat in real time.
Download Picasa with the Free Google Pack

Paint.NET is free image editing and photo manipulation software designed to be used on computers that run Windows. It supports layers, unlimited undo, special effects, and a wide variety of useful and powerful tools.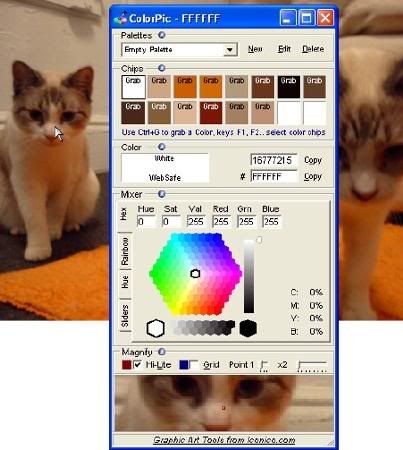 Ever tried using a color picker on a high resolution monitor? It's impossible. That's why this color picker has a magnifier attached. Grab palettes of up to 16 colors at once and use four advanced color mixers to select a spectrum of possibilities.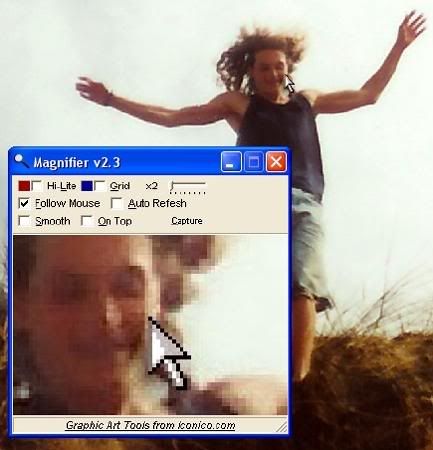 Ever needed to see what's going on the screen down to the pixel level? That's where the Magnifier comes in. Simple and easy to use, the Magnifier is always handy for when you need to see all the details. Magnifier has the following features: no popup adverts or spyware, easy to use with any other program, resizable magnification area, adjustable zoom factor, overlay a grid.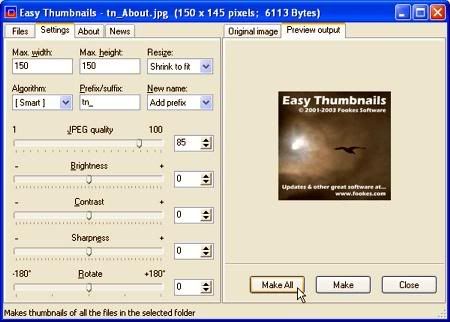 Create thumbnails and scaled copies of all your images. With Easy Thumbnails, you can find and process images individually, in groups, or in whole folders using a simple file selector and built-in image viewer. Use slider controls to rotate images and adjust contrast, brightness, sharpness, and other attributes. Thumbnails can be created in any existing folder or a new folder, and you can identify them clearly by adding a prefix or suffix to their names.
FastStone Photo Resizer 1.4
FastStone Photo Resizer is a free image converter and resizer intended to enable users (especially digital-camera owners) to convert, rename, resize, crop, rotate, change color depth, add text, and watermarks to images in a quick-and-easy batch mode. The application supports major graphic formats including BMP, JPEG, JPEG 2000, GIF, and PNG. Drag-and-drop mouse operation is well supported.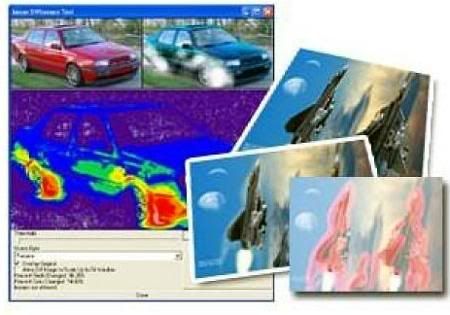 ImageDiff is a pixel by pixel image comparison tool. ImageDiff allows you to compare two images side by side, and see a difference mask showing you the exact pixels that have changed. Features include: Compare images of different formats, including JPG, GIF, BMP, and TIF, PNG. Compare images of different proportions and imageDiff will scale and calculate the difference automatically.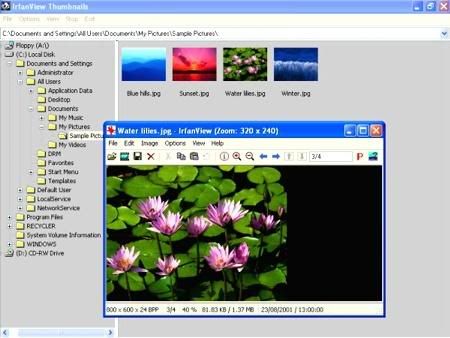 IrfanView is a fast and compact image viewer/converter. It is trying to be simple for beginners and powerful for professionals. Many supported file formats and features. Features include: multi-language support, Thumbnail option, slideshow, toolbar skins, fast directory browsing, batch conversion/editing, multipage editing, file search, change color depth, scanning, cut/crop, IPTC edit, capturing, lossless JPG operations, effects (sharpen, blur, Adobe Photoshop filters), EXE/SCR creating, many hotkeys, command line options and plugins.
FastStone Image Viewer 3.2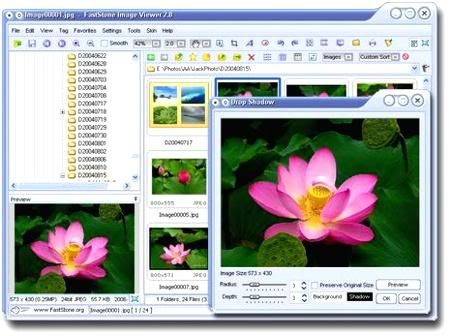 FastStone Image Viewer is a fast, stable, user-friendly image browser, converter and editor. It has a nice array of features that include image viewing, management, comparison, red-eye removal, emailing, resizing, cropping and color adjustments. Its innovative but intuitive full-screen mode provides quick access to EXIF information, thumbnail browser and major functionalities via hidden toolbars that pop up when your mouse touch the four edges of the screen. Other features include a high quality magnifier and a musical slideshow with 150+ transitional effects, as well as lossless JPEG transitions, drop shadow effects, image annotation, scanner support, histogram and much more. It supports all major graphic formats including BMP, JPEG, JPEG 2000, GIF, PNG, PCX, TIFF, WMF, ICO and TGA.

Alch Icon Suite is a powerful icon editing studio this small application is extremely easy to use and has a range of effects that can be applied to icons, not only can you edit any (16 X 16, 32 X 32, 48 X 48, 64 X 64) existing windows icons you can create your own icons fast and effectively.
*Update* 7/22/2007
Users have reported the presence of the virus "win32 adload.aw" in this program. Download for this app is not supported any more. Thanks for the help.
Overview | Download
Ilustration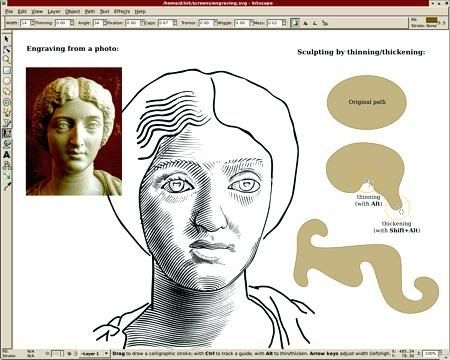 Inkscape is an Open Source vector graphics editor, with capabilities similar to Illustrator, Freehand, CorelDraw, or Xara X using the W3C standard Scalable Vector Graphics (SVG) file format. Supported SVG features include shapes, paths, text, markers, clones, alpha blending, transforms, gradients, patterns, and grouping. Inkscape also supports Creative Commons meta-data, node editing, layers, complex path operations, bitmap tracing, text-on-path, flowed text, direct XML editing, and more.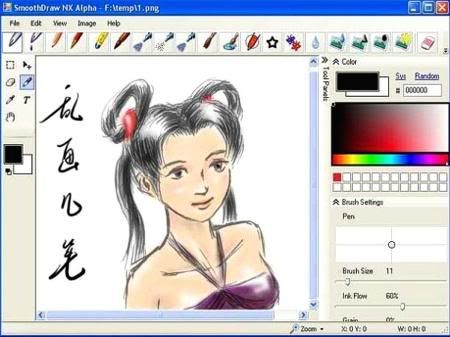 SmoothDraw NX is an easy yet powerful freehand drawing tool. It's a limited yet free version of SmoothDraw. It produces the most smooth and expressive stroke through your tablet. It also smoothes mouse input for who don't have a tablet.
SPRAY vector generator 0.1
SPRAY vector generator is intended to produce helper objects for vector illustration software like Xara X, Corel Draw, Adobe photoshop. You can easily generate huge number of circles with random position, fill, outline color; random paths, grids, and rays. You can place generated objects thru clipboard at your favorite illustration app. Developed for Xara X but also works with Corel Draw or Adobe Illustrator.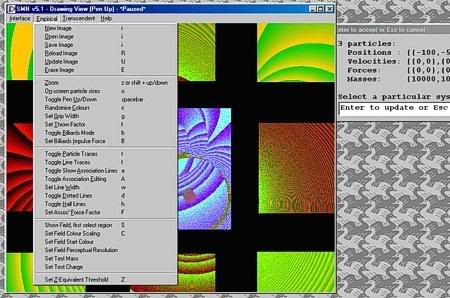 ParticleDraw is a novel windows drawing program powered by a state of the art general system simulation engine. The brushes are dynamic systems of particles with interesting behaviours, which you can completely customise. Each brush is intricately tuneable with many underlying physical parameters and one can construct arbitrary systems of particles and use these as brushes.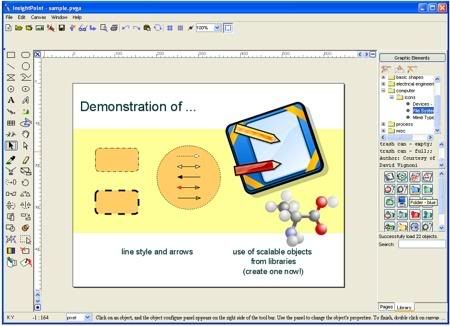 InsightPoint creates sophisticated illustration and layout for Web and print. When it comes to spell out and share your ideas, in text and in graphics as well, InsightPoint is the fastest and easiest way to get you there. Built on top of XML technologies, comprehensive object-oriented vector design tools, trivial learning curve, and smooth drawing experience.
Overview & Download
Please Read about Design Programs in Detail :